The next step of my DJ journey started in September 1998, when we were 130 days into our 180-day summer season at the Hotel El Greco. However, unknown to me this would be my last summer as a hotel entertainer.
Unexpected opportunities
On a very rare day off I would get the chance to go to the beach. Here I could recharge my batteries and chill. On one beach trip, I was with friends talking about a good friend I met during my first season in Cala Portinatx, Miguel, but how we lost touch. Then, out of nowhere, I heard someone call out my name, and it was Miguel's girlfriend! What were the chances of that? She was excited to tell me that Miguel wanted to talk to me about a new opportunity on the island. He was going to be the manager of one of the largest bars in Playa D'en Bossa, on the other side of the island.
The bar was to be revamped with new lighting and a brand new sound system. The plan was it was going to be a family bar, with me and some outside cabaret acts on stage until midnight and then me Djing from midnight to 4am. It was obvious that this was not your normal fun bar. No, this was going to be the fun bar that everybody wants to be at.
I met with Miguel and the owner and found they were looking for someone with new and crazy ideas for this bar. However, my entertainment was for hotels for 750 people per night. This was going to be a big move for me, from hotel entertainer to a resident DJ & entertainer. And the funny thing was the big selling point for the management team was the fact that I was a DJ from London, and the bar was going to be called Big Ben's!
So, here I was, about to be a resident DJ in Ibiza, starting in summer 1989, and the contract package they were offering me was an absolute dream come true!
1999
So in 1999, I started at 'Big Bens' in Playa D'en Bossa. On a typical night, there would be 250 to 300 people in the bar and outside terrace. Showtime starts at 9pm with me doing the warm-up for our professional act that starts at 10pm.
I would do spot prizes, such as name the year of the track, or very silly questions like "on a clear day what's the only country you can see from the Eiffel Tower in Paris". You would definitely not believe some of the answers I would get! But remember that this was way before Google was available! Sometimes I would just stop the music and invite someone on stage to get them to do something to win a Big Ben t-shirt. I am proud to say it was always done with fun and with a family theme. People would go mad for one of these designer t-shirts!
Perfecting my DJ skills
I produced two shows that would always end up in absolute chaos and mayhem, but families loved it! As for the DJing, I had a very simple brief – just make people dance. So from 9 pm to midnight, it was a mixed bag of tracks, from the classics to pop and more. From midnight to 4 am it was funky, Latino, hard house and trance back to 90s. Also, rave, RnB, Hip Hop and new dance tracks released in Ibiza weeks before they were played in the UK. I would spend hours in record shops in Ibiza old town, before going over to my favourite record shops in San Antonio. I was one of the first in Playa D'en Bossa to play Darude, Sandstorm, DJ Sammy Heaven, Roger Sanchez, Another Chance and Rui Da Silva, Touch Me.
As for my DJing, it was such a huge opportunity to perfect my mixing skills. I could play around, putting different genres of music and beats together to create my sets. This helped me perfect my skills, even to this day when I put together my client's personal playlists. I know several DJs that see a playlist as an issue. However, for me, it is an opportunity to play my client's favourite tracks in a way that enhances their celebration. This is Just one example of how Song 'n' Dance didn't invent celebrating, we just perfected it.
Multi-skilling!
I consider myself very lucky to be part of the team at Big Bens. I have so many incredible memories of working with Miguel and the bar staff. We put a lot of hard work in developing the bar to make it the place to be every night. We did this for two summers, but then Miguel decided he was going to move on with his own dreams.
I do remember how hard those two summer seasons were. I started at 10.00 am with stock deliveries, then at 2pm had lunch, then back at 4pm for more deliveries. Then at 6pm, I would start to prepare for the night's show. If it was an outside act, I would do a soundcheck and a short run over the show. I did this just in case there were any last-minute changes. Remember, I was also the sound & light engineer for the outside acts as well as my own! I would start to get the bars ready for staff arriving at 7pm, so all four bars had to have their cash tills counted and ready to go, plus make sure they had everything they need to make the bar run professionally throughout the night. Nope, I certainly wasn't just a DJ!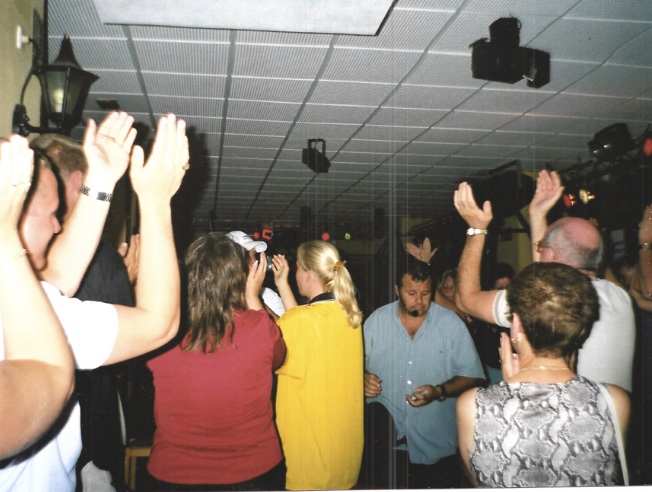 Showtime!
So the running order of the night would be prepping from 4pm and bar opening at 7pm. Then once everything was in place I would grab some food, get changed and then back for 9pm for the start of the evening. I would start the warm-up for my show or act at 10pm right through until midnight Then once the act or I had finished the show, I would go into my DJ set until 4am. At 4am I closed the bar, secured the night's takings from the cash tills and did all my paperwork. Then start all over again the next day!
I followed this routine for the next 180 days, it's the only way it could work. However, sometimes, there might be a hiccup to my very tight routine! Possibly in the middle of the show, maybe even with an act on stage (or myself), and I had to deal with it right there and then. Those were very interesting and challenging moments, but I loved every minute of it. It also means I am fortunate to have the skillset and confidence, that when on my own events, I'm capable of dealing with any situation, calmly and professionally.
Next time I will tell you about the professional acts we had and a bit about my shows.
Thank you for taking the time to read this blog and if you have any comments please let me know I would really love to hear from you. You can contact me through this link https://www.songndance.co.uk/contact/
Please stay safe and well
Mark