It was 1993 and I was very lucky to work as a DJ on most weekends. I was doing house parties, birthdays, weddings, in fact anywhere I could play. But I wanted to take it further. So, I got a residency in a bar in Sidcup who were looking for a DJ. However, unknown to me this bar had already got a good reputation as a rock bar, so imagine how the opening party went down!
My brief was to play house music, so I would like to apologise to all the people that thought I was there to play rock. Anyway, 3 weeks later it was a completely different bar! People were coming from all over South London & North Kent to hear little ole' DJ me, play all the latest house tracks. The bar could comfortably hold 100 people, but now according to the guys on the door, every Friday night we were getting in 300 plus. I stayed to do that DJ residency until April 1994.
After a while, I made contact with two people I knew who ran an entrainment agency based in Barcelona. They invited me out to audition to be an entertainer. Now I can't dance, I can't sing and could not even tell a joke, but somehow the audition went well, and they convinced me to go for it.
On my way to the White Island
So, I got the gig, but there was just one problem. The hotels didn't have sound or lighting equipment, so I made arrangements for my DJ kit to be sent out. As you'll see from the picture this is what they offered me! I arrived, 26th April 1994, on the beautiful Island of Ibiza.
I went straight to the hotel to find my DJ kit on its wooden palette in the car park. Those flight cases contained stage lighting, disco effect lighting, a full sound system, wireless microphones, two techniques turntables, plus 5 boxes of vinyl. There were also twin CD players with over 200 compilation CDs, twin cassette decks, 4m of lighting truss, heavy-duty stands and a bunch of cables. Also squeezed in was a karaoke CD machine with over 125 CDS, including Robbie Williams's 'Angels' that would always jump at the same point every time it was played. Together with the equipment was two flight cases of props & clothes.
All this was sent from London to Barcelona by truck, then on a ferry, then another truck, up to the hotel. This would normally take about 16 (anxious) days depending on a number of things (as I found out going back and forth for 17 summers!) Anything else I needed, I had to beg, borrow or improvise.
I had no idea what was coming, but I was going to learn so much about entertainment during this time. My audience wasn't just from the UK, but also from France, Germany, Italy and the Netherlands. I didn't learn all the languages, but I certainly made sure everyone had a good time.
I continued working from May to October in Ibiza and then from November to December, I was back in London to DJ corporate Christmas events in London in hotels like The Savoy, and The Dorchester, together with London Dungeons, Madame Tussauds and on top of Tower Bridge.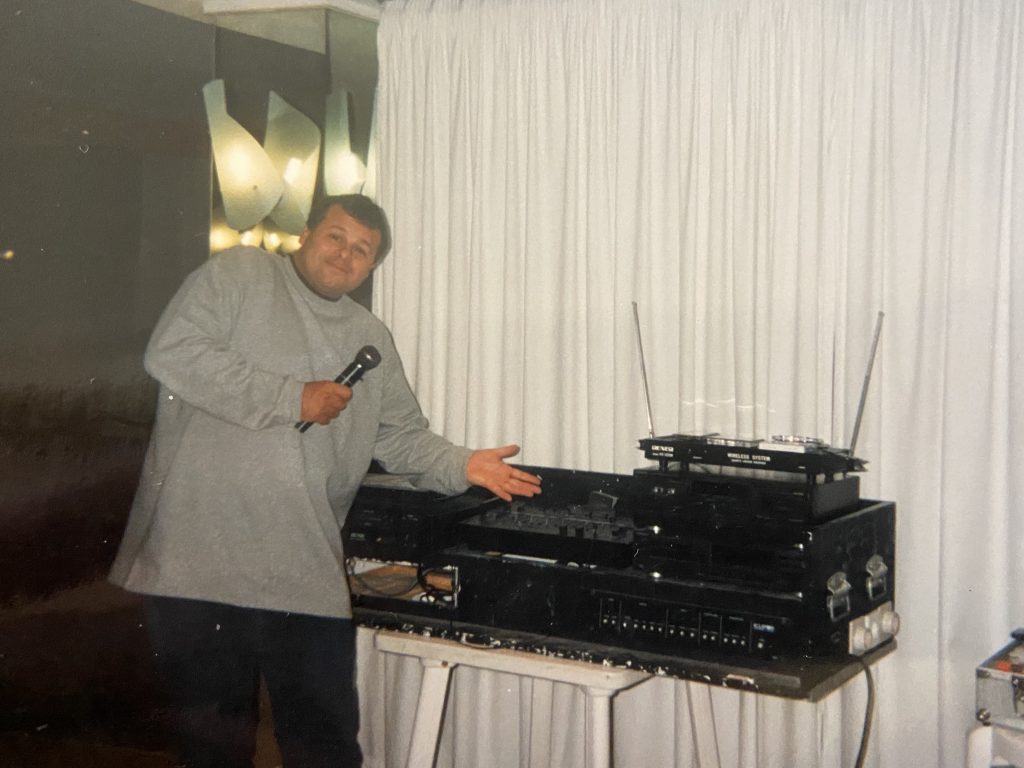 1997
1997 was a super special year, as I was asked to go back to the hotel where, in 1994, it all started. This was the Hotel El Greco in Cala Portinatx, on the north of the island. Here I could do bigger and better shows, as it had a capacity of 750 UK guests a week. This hotel needed a new full day and evening entertainment program based on 14-days turnaround, so every evening the guests would experience a different show. But I also needed a new stage partner, someone who had lots of talent and ideas. So, the auditions began! It's true I did go through a few 'so-called' entertainers at the start, which didn't work out, then just as I was going to try and do it all by myself it changed.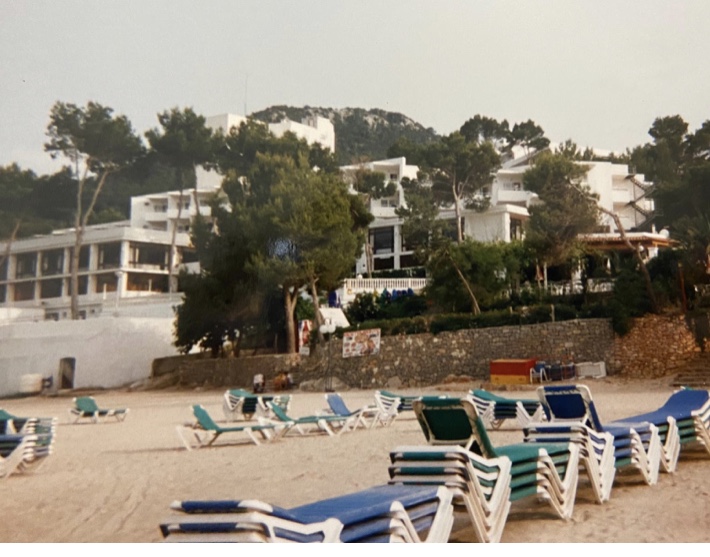 I need help!
One evening when I was getting some expensive champagne* (*cheap fizz) from the bar for prizes, I heard a voice next to me ask 'would you like some help with that'. I did not know it but there and then she was going to be the person that was going to make sense of all this. Her name is Natalie she knew how to put a show together. She was a professional dancer with lots of stage experience and enthusiasm. The answer to my prayers! So, after the show that night we had a chat about how she was on holiday with her friend, and in a job that she wanted to leave. I offered her the job there and then.
Now I'm being totally honest, this opportunity was everything to me as sometimes I was not the easiest person to work with (as Natalie will tell you!). I have always been a perfectionist, so everything has to be on point every single time. So sorry to Natalie for being a pain sometimes, but fortunately she knew just how to handle me. And so began the Hotel El Greco entertainment team for 1997!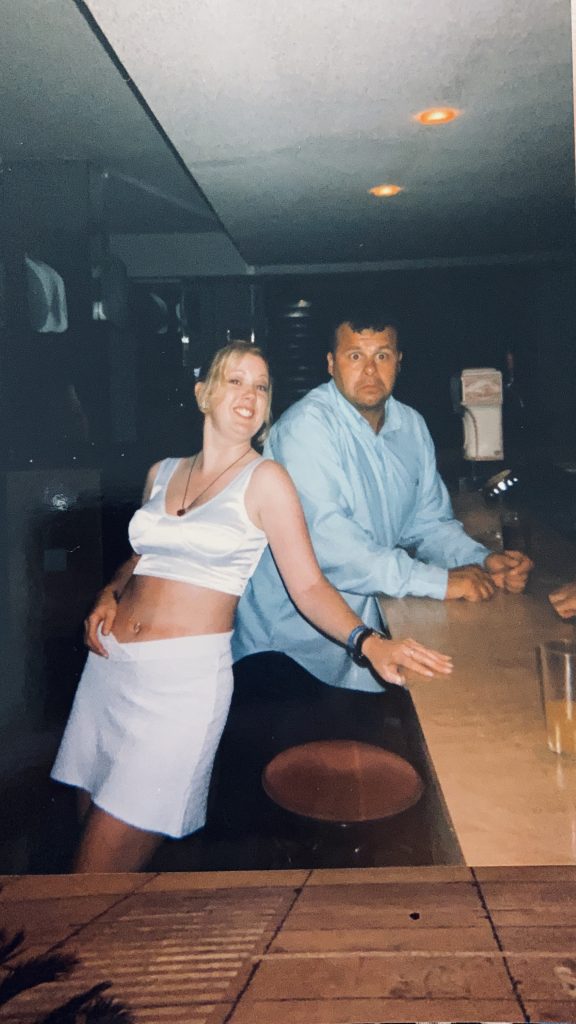 The Dream Team
Natalie started the next day and it was amazing how she knew exactly what to do and how to do it. The Hotel El Greco was a family hotel, so the shows were family-themed. However, I was determined that I would break the mode regarding the typical cheesy hotel entertainment. And so, with new shows and new ideas, all done with lots of fun, we created lasting memories for our guests.
There were two very special people I would like to mention, who ran the Snappy Dragon Children's Club. This was part of the holiday package for the guests for their children. In all other hotels, there wasn't much collaboration between the children's reps and the hotel entertainers. Therefore, we worked alongside these two hard-working ladies, supplying the music for the mini disco every evening. We basically did anything we could to help them with their programs. From that grew strong friendship very quickly. We would share ideas and we went through the good times and not so good times together.
Now we had a perfect collaboration. But it was hard work, sometimes from 9.30 am to 1 am, working out what works and what didn't. We also had after-show discussions on how we could make the shows even better. The hotel booked 4 outside shows, including 'La Follies' who were an amazing drag show. We also had a magic show that was very popular with the children. We had a one-off act called Frankie Riley, who was an all-round entertainer. Frankie was a total pro; I would watch this man every time! And of course, like every hotel at that time, we had a Flamenco show.
That left 10 nights to fill with our shows, with our own style of entertainment. And that meant involving the guests!
The Playback Shows
There was one particular show which we named the Playback Show. It was based on a live gig, an opportunity to be a superstar for a night. We would start, three days in advance, around the pool area promoting the show to build the atmosphere. We would ask 'If you had the chance, which superstar would you like to be for one night only'.
I don't really know how, but we would have at least 50 to 65 guests in this show. It was so popular! Very simply, the guests told us who they wanted to be, and Natalie taught them some simple moves. I would show them how to pretend to sing into a microphone or play a musical instrument. This may sound like a three-day rehearsal, but we would only run through the track a max of 2 times. There would be a real buzz about the show by the end of the rehearsals. We told the acts if you forget anything, just keep moving and enjoy it, because you will only do this once!
After the rehearsals, we would organise all costumes, props and makeup. We would have guests from 5 years old up to, believe it or not, a 93-year-old guy! Everyone was a star in our eyes.
So that was the first part done. Guests around the pool area and the beach would tell us they are definitely coming down to watch the show. Once all the guests had left, we got prepared, setting the lights, sound props, costumes, makeup and much more.
The build up
The show replicated a live gig atmosphere. It started at 10 pm and ran until 11.30 pm. The idea was, you come to the pool area where the stage was set with background music, just as if you were at a professional concert. The stage would be a total blackout, with just the smoke machine running to help build the atmosphere. The pool area would open up for the evening at 8 pm, if you were not in a seat or standing at the back, or on the upper terrace by 8.45 pm, you would not see the show. It was packed!
From the stage all you would see were lots of excited guests, some had family members in the show and some just wanted to how we made this happen. There was no really secret to this show, it was all about helping our guests to have fun and enjoy every second that they are on stage.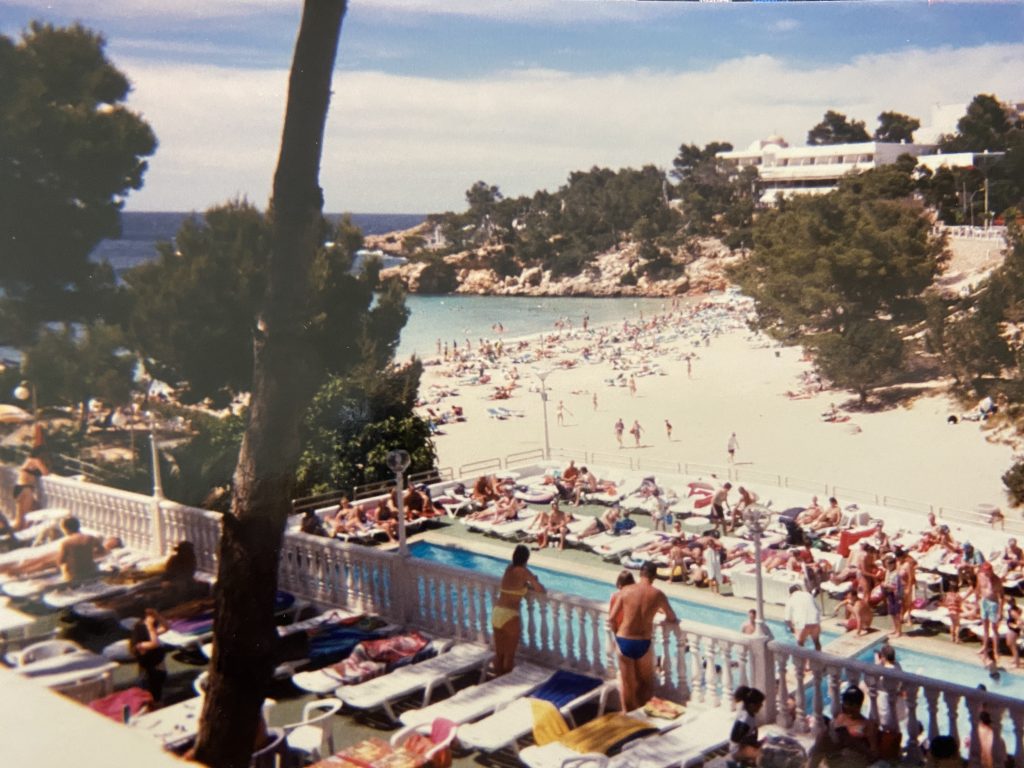 Showtime!
I would introduce the show and then we were off, nonstop! Every 60 seconds we would turn the set around and the next band or act would go on. If any of the acts needed encouragement, they not only got it from us (we were by the side of the stage) but the whole cast. Yes, they were shouting and screaming words of support for every act.
The last three acts were our amazing children reps with their chosen track. Then, the stage would blackout and Natalie was next on stage, but with me tucked under a piece of staging, with one leg either side of a 300w stage light, which was very hot (no L.E.D then!) waiting for Natalie to start with Janet Jackson. After the 4.23 track (believe me, it felt much longer!) Natalie would leave the stage and I would push down a very hard part of staging to reveal myself as Michael Jackson.
Once I had finished it was time for the finale. All the acts were introduced on stage to receive their applause. The next morning, we would arrange for the acts to have a V.I.P Buck's Fizz champagne breakfast party. Every act would also receive a diploma that stated that were part of the Hotel El Greco Playback Show. Just to let you know it was not really champagne, it was fizzy orange juice (shhh!). That was a typical night in at the Hotel El Greco!
Back to today
Over those 4 years, I used this opportunity to develop and perfect my skills as more than just a DJ. By understanding a client's dreams and vision for their big celebration, I can make those dreams and visions a reality!
As it says, we didn't invent celebrating, we just perfected it. Find out how we can tailor your celebration to exactly want you want here https://www.songndance.co.uk/celebration-dj/
I hope I have not bored you too much, and if you are left wanting more, the last chapter will be about life after The Hotel El Greco, and the opportunity to be a DJ in Ibiza.
Thank you for your time, if you have any comments please let me know. And if you were there at the Hotel El Greco from 1997 to 1998, or you would like to know more about SONG N DANCE, please let me know.
Stay safe & well.
Best wishes
Mark